Worm Breeder's Gazette 8(1): 11
These abstracts should not be cited in bibliographies. Material contained herein should be treated as personal communication and should be cited as such only with the consent of the author.
Suppressors of the Multivulva Mutation lin-1 (e1275)
K. Edwards, B. Horvitz
The early steps in the determination and differentiation of the 
vulval precursor cells P(3-8).p have not been well defined genetically.

Besides the heterochronic genes (Ambros and Horvitz, CSH Abstracts 
1983, p.47), only four genes have been identified that affect this 
process: lin-24 IV, lin-25 V, lin-26 II and the gene defined by n300.  
There are one to three alleles at each of these loci, none of which is 
amber-suppressible.  Mutations in these genes confer a 'Vulvaless' (
Vul) phenotype and, unlike the majority of Vul mutations, are 
epistatic to mutations in all 'Multi vulva' (Muv) genes.  The 
epistasis of these Vul mutations reflects early defects in the vulval 
pathway, i.e.  the production of abnormal Pn.p cells that die, undergo 
extra divisions or transform to neurons or syncytial hypodermal cells 
in the L1.
To obtain new alleles and to identify new loci affecting early 
stages of vulval development, we have isolated strains containing 
mutations epistatic to the temperature-sensitive allele e1275 of the 
Muv gene lin-1 IV.  Animals of genotype lin-1(e1275) IV or lin-1(e1275)
IV were mutagenized with EMS and raised at 
the non-permissive temperature (25 C).  In animals of these genotypes, 
P(3-8).p all undergo three rounds of cell division in the L3, 
producing a Muv phenotype.  Six thousand F1 and F2 progeny of EMS-
mutagenized animals were scored for the absence of these ventral 
protrusions.
Using this procedure, we have obtained three new vulvaless strains.  
n1110 is a semidominant Vul mutation that produces a phenotype similar 
to that of lin-24 IV.  In addition, both lin(n1110) and lin-24 
heterozygotes are less penetrant than homozygotes and adults grown 
from dauer larvae are less penetrant than those that have processed 
through the normal life cycle.  However, n1110 maps between unc-5 and 
unc-8 on IV and therefore is genetically distinct from lin-24.  (Chip 
Ferguson has recently isolated other mutations that map in this region 
and result in a phenotype similar to that of lin-24 animals.)  Two 
other mutations (n1064 and n1115) result in a phenotype similar to 
that of n300: Pn.p cells fail to divide and join the hypodermal 
syncytium.  We have succeeded in mating only the second of these 
strains, which carries a recessive mutation and complements n300 for 
the vulvaless phenotype.
In addition to vulvaless mutations epistatic to lin-1(e1275), we 
have also obtained a novel class of lin-1(e1275) suppressors.  This 
class comprises mutants that (at least in doubles with lin-1) lay eggs 
and have a functional vulva.  These mutations suppress the extra 
divisions and/or morphogenesis of P(3,4,8).p but apparently do not 
block the cells that participate in vulva morphogenesis in wild-type 
development, P(5-7).p.  Five recessive mutations and three dominant 
mutations, two of which are at least closely linked to recessive 
lethal mutations, have been identified.  One of the recessive 
suppressors (n1113) is a new allele of lin-22 IV, which has been 
studied by Bill Fixsen (CSH Abstracts 1983, p.11).  The other 
mutations have been assigned to linkage groups by scoring their 
suppressor activity in lin-1(e1275) backgrounds: I (n1116 rec), III (
n1111 rec; n1117 rec), V (n1119 rec; n1112 dom/rec let; n1114 dom; 
n1118 dom/rec let).Most if not all of these suppressors appear to be 
lineage-specific, affecting the Pn.p lineages but not other lin-1 
defects (extruding excretory pore and poor male-mating ability).
Figure 1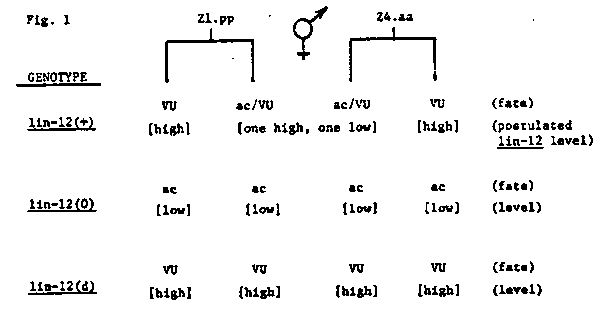 Figure 2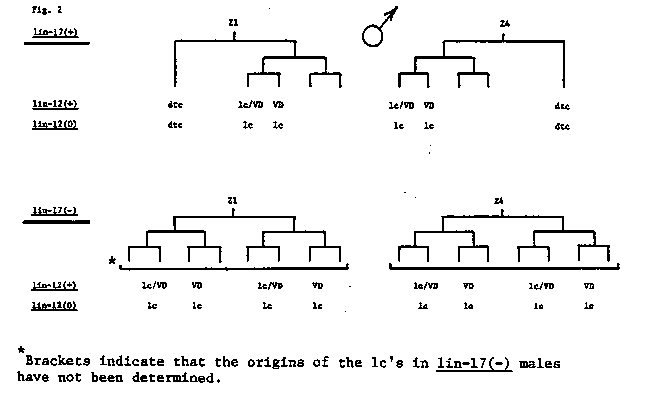 ---