Worm Breeder's Gazette 7(2): 12
These abstracts should not be cited in bibliographies. Material contained herein should be treated as personal communication and should be cited as such only with the consent of the author.
EMS and Gamma-ray Inducation of Recessive Lethals in C. elegans
R.E. Rosenbluth, C. Cuddeford, D.L. Baillie
Previously (Genetics 99:415-428,1981; Newsletter Jan.1982) we had 
described a screening procedure for recessive lethal mutations in the 
region balanced by the reciprocal translocation, eT1(III,V), - a total 
of 40 map units.  We have now finished collecting dose-response data 
for EMS and gamma-ray induction (except for one more experiment at 
500R), and are in the process of analyzing some of the retained lethal 
strains.
[See Figure 1]
The screen detects heterozygous eT1 F1 hermaphrodites carrying at 
least 1 lethal on the normal homologues anywhere in the balanced 
region.  This region consists of 2 parts: 21 map units between sma-2 
and unc-64(III) and 18 map units between unc-60 and dpy-11(V).  The 
screening procedure itself does not indicate in which of these 2 
regions a particular heterozygote carries a lethal mutation, nor does 
it indicate whether there is more than one mutation present.  We are 
therefore outcrossing the lethals and mapping the mutations to either 
LGIII or LGV (or to both).  The first ones to be mapped are those 
obtained with 0.025M EMS and 1500R gamma-radiation respectively.  
Column 2 of the table shows the frequency of fertile screened F1's 
that had carried at least one lethal within the 40mu.  screened.  So 
far 38 EMS and 19 gamma-ray strains have been analyzed.
[See Figure 2]
Columns 4 and 5 show the number of strains in which only one of the 
2 balanced regions carries any lethals, while column 6 shows the 
number carrying at least one lethal in both regions.  Although the 
sample sizes are still small, the data show an interesting trend.  If 
one assumes that the induction of recessive lethal mutations at a 
given mutagen dose follows a Poisson distribution, then column 7 shows 
the predicted fraction of lethal strains carrying more than one 
mutation in the balanced 40 map units ( regardless of whether they are 
all on III or V, or on both).  Column 8 shows the actual minimum 
fraction of strains that carry at least 2 mutations (N.B.  a strain 
carrying 2 mutations on say III would be scored as 'only on III').  In 
the case of 0.025M EMS this fraction is 0.053 and is consistent with a 
Poissonian distribution of EMS mutations.  On the other hand, 1500R 
gamma-radiation appears to produce far more lethals on both III and V 
than predicted frequency of only 0.045 F1's carrying lethals one would 
expect most of these to be due to single-hit events).  If this trend 
is confirmed by additional data, it may mean that many single-hit 
events are not detected as lethals and would be similar to results 
obtained by Lefevre for Drosophila (Genetics 99:461-480,1981).  
Lefevre analyzed lethals induced in mature sperm by an X-ray dose of 
2000r, which gave 7% X-linked recessives.  Of these 43% showed 
cytollogical rearrangements.  We might, therefore, expect a large 
number of our gamma-ray lethals to be associated with rearrangements 
involving III and another chromosome, or V and another chromosome.  
What is not necessarily expected is that so many should affect both 
III and V, - unless there are many rearrangements induced by this 
dosage that involve more than 2 chromosomes.
If a relatively large number of gamma-ray induced single-hit events 
are not detected as lethals, the apparent lag in our gamma-ray dose-
response curve would be explained.  What would still be puzzling is 
the fact that our curve differs from the linear dose-response curves 
found for X-ray induced sex-linked lethals in Drosophila sperm.
Although our data are still scant and more are needed to clarify the 
gamma-ray lethals, we do want to emphasize that mutants obtained with 
doses as low as 1500R probably carry a number of breaks in their 
genomes.
Future experiments 
include:
1.  Analyzing the gamma-ray lethal strains for, (a) rearrangements (
b) deficiencies.
2 Determining the distribution of lets along the arms of III and V.
3.  Comparing the relative sensitivities of hermaphrodite oocytes 
and male sperm to mutagens.
Figure 1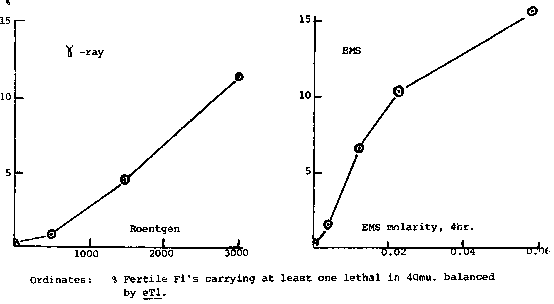 Figure 2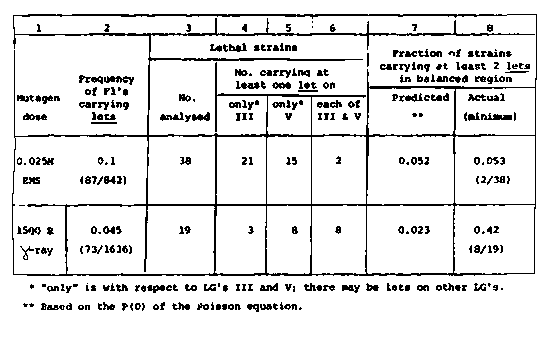 ---