Worm Breeder's Gazette 7(1): 89
These abstracts should not be cited in bibliographies. Material contained herein should be treated as personal communication and should be cited as such only with the consent of the author.
EMS and X-ray Dose-response Data for the Induction of Mutations in C. elegans
R.E. Rosenbluth, D.L. Baillie
In order to obtain EMS and gamma-ray dose-response curves for the 
induction of mutations in C.  elegans, we are measuring the frequency 
of recessive lethals induced within a defined region of 40 map units.  
Using the translocation, eT1(III;V), as a balancer (Rosenbluth and 
Baillie, CSH meeting 1981), we simultaneously screen the right half of 
LGIII and the left half of LGV for lethals as follows.
Due to the segregation patterns of eT1 heterozygotes, and due to the 
fact that as a heterozygote eT1 suppresses crossingover between sma-2 
and unc-64 on LGIII and between unc-60 and dpy-11 on LGV, heterozygous 
hermaphrodites of the genotype, dpy-18/eT1(III);unc-46/eT1(V) produce 
only three types of self 
offspring:
[See Figure 1]
Consequently, if such a heterozygote carries a lethal mutation on 
either the dpy-18 or unc-46 marked chromosome,- anywhere in the 
crossover suppressed region, - there will be no Dpy-18  
Our current protocol consists of treating adult heterozygous 
hermaphrodites (of the above genotype) with a given dose of mutagen 
and allowing these to 'self' at 20 C.  Single F1 heterozygotes (wild-
type) are then placed on individual plates and their progeny are 
screened for the absence of DpyUnc individuals.  Strains from F1's 
producing no DpyUnc's are putatively lethal bearing and are maintained 
by repicking heterozygotes.  If no DpyUnc's appear among at least 250 
offspring, the F1 is considered to have carried at least one lethal 
mutation somewhere within the crossover suppressed regions (or within 
1m.u. Of them.)
The data collected so far are summarized in the following table.
[See Figure 2]
It should be noted that with the current protocol, half the 
chromosomes screened were mutatgenized in sperm and half in oocytes.  
Preliminary experiments by others in our laboratory (Rogalski and 
Pilgrim) indicate that the oocytes are much less sensitive to gamma-
radiation than are the sperm ( as is the case in Drosophila).  We are 
planning to measure the frequencies in sperm and oocytes separately.  
If the above values for the gamma- radiation are only due to lethals 
induced in sperm, then they are only half the true sperm lethal 
frequency.
We hope that this type of data will provide some guide lines for the 
choice of EMS and gamma-ray doses in future experiments.
Figure 1

Figure 2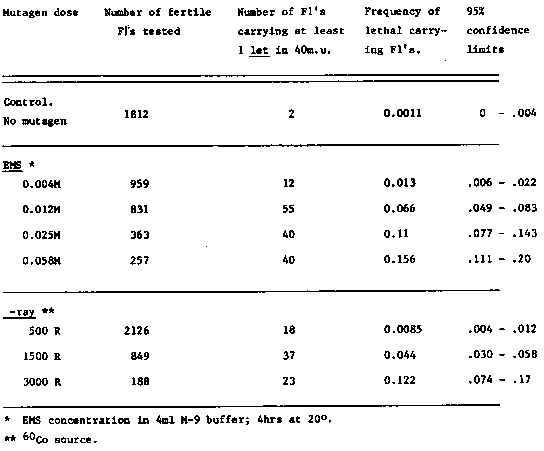 ---