Worm Breeder's Gazette 3(2): 30
These abstracts should not be cited in bibliographies. Material contained herein should be treated as personal communication and should be cited as such only with the consent of the author.
More on Touch Sensitivity in C. elegans
M. Chalfie, N. Thomson
As John Sulston described at the last worm meeting (see Meeting 
Newsletter), sensitivity to light touch, i.e.  stroking with an 
eyebrow hair, appears to be mediated by 6 receptor neurons: two 
lateral pairs of cells and two cells (derived by the Q cell lineages) 
which send processes into the ventral cord.  Cell processes of all 6 
cells are easily recognized in electron micrographs because they 
contain large numbers of darkly staining microtubules.  (Similar 
microtubule containing cells in other nematodes have been seen by J. M.
Smith and N.  Croll.  Int.  J.  Parasitol.  5: 289, 1975).
Interestingly, the number of microtubules seen in serial sections of 
all 6 cells fluctuates along the length of the neuronal process.  This 
is seen most convincingly in the process of cell Q2.paa where the 
number of tubules (in one series) went from 18 to 4 and then up to 20 
over a distance of approximately 20 m.  Although neuronal microtubules 
have been thought to be continuous, these cells appear to show that 
continuity is not important for normal cell activity.
28 mec mutations in 11 complementation groups are currently being 
examined.  (Mec - mechanosensory abnormality - replaces the previous 
tin designation).  These mutations do not respond to the eyebrow hair 
stimulus but move when prodded with a platinum wire.  In addition, 
these mutants are 'lethargic' i.e.  they are relatively inactive when 
compared to N2 on agar plates with ample bacterial lawns.  Mec worms 
appear as active as N2 but are still touch insensitive on clearing 
plates.  Larval mec males are lethargic, but adult males are not (they 
are still mec however).  Thus, hunger and sex seem to keep the worms 
active.  These phenotypes are also found in two unc mutations and in 
one che mutation.  The mutations are listed below.
[See Figure 1]
[See Figure 2]
The mec mutations can be phenocopied by growing N2 in the presence 
of 0.5 - 1.0mM colchicine, an antimitotic drug which binds to tubulin. 
Colchicine-treated animals are touch insensitive and lethargic (only 
in the presence of ample E.  coli).  This concentration of colchicine 
appears too low to block cell division since animals move normally and 
are fertile (10-20mM colchicine is lethal to C.  elegans).  Colchicine 
is effective only if the animals are treated as L2s or younger.  This 
is consistent with the finding that young animals have significantly 
fewer microtubules (even accounting for the fluctuations) than adults 
and supports the idea that colchicine is preventing the assembly of 
microtubules in these cells.  The colchicine effect is irreversible.  (
S.  Ward and Y.  Argon have found that worms treated with nocodazole, 
another antimitotic drug, become mec and unc.)
35S-labeled tubulin can be isolated from C.  elegans by successive 
rounds of polymerization and depolymerization with excess cold pig 
brain tubulin.  Alpha- and  -tubulin isolated in this way can be 
visualized on SDS polyacrylamide gels.  Two other components 
apparently copurify with tubulin.  Both have lower molecular weights; 
one has been tentatively identified with actin.  There are no 
components with higher molecular weights than tubulin which copurify 
in this system.  No difference in the gel pattern has been seen 
between E1343*1 (which lacks the microtubules), E1416 (which lacks the 
touch cells), and N2.  This is not surprising since the tubulin in the 
touch cells is likely to be a small fraction of the total worm tubulin.
Figure 1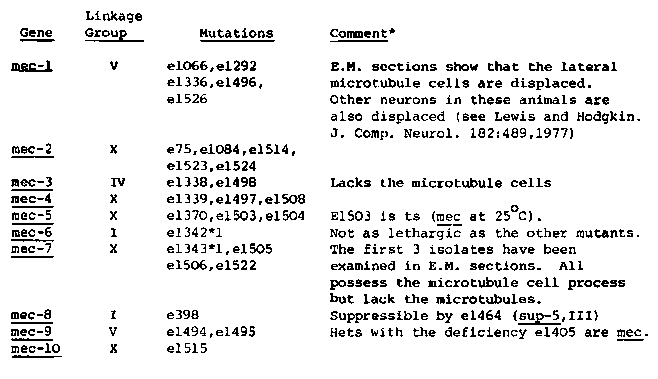 Figure 2

---