Worm Breeder's Gazette 12(3): 88 (June 15, 1992)
These abstracts should not be cited in bibliographies. Material contained herein should be treated as personal communication and should be cited as such only with the consent of the author.
Biochemical Characterization of the DNA Binding Activity of TcA, the Putative Transposase of C. elegans Transposable Element Tc1
Pierre Abad[1], David Pauron[1], Martine Cerutti[2], Gerard Devauchelle[2], Antoine Dalmasso[1]
[1]Station de Recherches de Pathologie Comparee, INRA-CNRS, 30380 St-Christol-lez Ales
[2]Laboratoire de Biologie des Invertebres, INRA, BP 2078, 06606 Antibes cedex, France


To further characterize the DNA-transposase interaction, we have studied the biochemical parameters of the binding. This was done by filtration on nitrocellulose under reduced pressure. With this system, the DNA-enzyme complex is specifically retained on the filter as preliminary experiments showed that the non specific retention of the labelled DNA alone onto the filters was < 1 %. We first incubated labelled DNA with increasing concentrations of protein in the absence (total binding) or in the presence (non specific binding, <1%) of an excess of unlabeled DNA. As shown on figure 1, Tc1 DNA binds specifically and saturably to the protein as the amount of complex formed plateaus for transposase concentrations of 100-200 nM. Protection experiments were then performed to evaluate binding at a quantitative level. These were done by incubating fixed amounts of labelled Tc1D NAand transposase with various concentrations of unlabeled Tc1 or calf thymus DNAs. Figure 2 presents the results of the specific binding obtained. Unlabeled Tc1 DNA was found able to totally inhibit the binding of [32p] Tc1 DNA to the enzyme in a dose-dependent manner [See Figure 2] K0 ,5which is the concentration of DNA which inhibits 50 % of the [32P]DNA specific binding is 3.8 nM for Tc1 .When the same type of experiment was performed with unlabeled calf thymus DNA [See Figure 2] instead of Tc1 ,we noted that increasing concentrations of this DNA also progressively prevented the binding but with a lower affinity as compared to Tc1 DNA. In this case, the K0 ,svalue was 24 nM which indicate that the ability of calf thymus DNA to bind the transposase is roughly 5 times lower as compared to Tc1 DNA in these experimental conditions.

Preliminary experiments to define the kinetics of the Tc1 DNA-transposase complex revealed some interesting features. At 25°C, the association time is rather slow (T1/2 = 41 min.) but is shorter at 37°C (T1/2 = 16 min.) as presented on figure 3. Dissociation of the complex induced by adding in the incubation medium a large excess of unlabeled Tc1 was found to be slow (at 37°C, T1 /224 hours ) which indicate that the complex is very stable at this temperature.

We also achieved the binding of fixed amount of purified TcA protein with increasing concentrations of [32]p labelled Tc1 DNA either in the absence or the presence of an excess of unlabeled Tc1 .Specific binding was found to be a saturable function of the concentration of the labelled DNA. As shown in figure 4, the Scatchard plot of this specific binding is not linear which indicate the existence of two families of binding sites for Tc1 DNA. The first family of sites has a higher affinity as defined by the dissociation constant, Kd, which value is 0.26 nM and a maximal binding capacity, BmaX, of 0.97 nmol/mg of protein. The second family of sites has a decreased affinity as compared to the first one as the Kd value is 5.2 nM and a Bma,, value of 4.06 nmol/mg of protein.

Work is now in progress to determine if the existence of these two families of binding sites can be correlated with our results of protection experiments, where TcA would be able to recognize specific motives of Tc1 but also less conserved sequences which might be found in non-relevant DNA.
Figure 1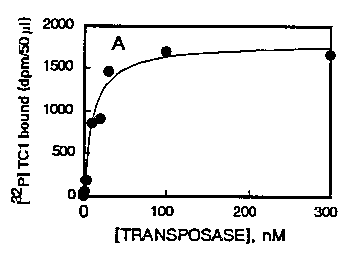 Figure 2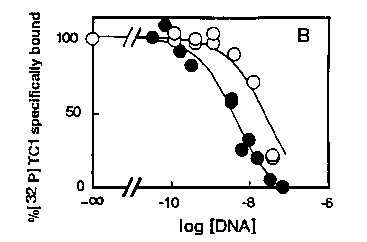 Figure 3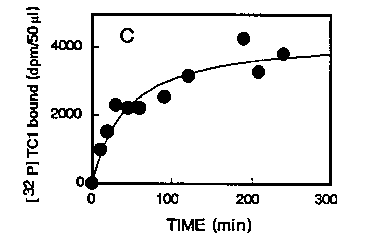 Figure 4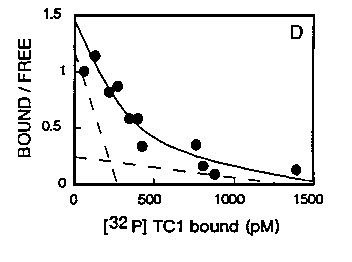 ---