Worm Breeder's Gazette 12(3): 28 (June 15, 1992)
These abstracts should not be cited in bibliographies. Material contained herein should be treated as personal communication and should be cited as such only with the consent of the author.
Sequencing her-1 Loss-of-Function Mutations
Barb Robertson, Marc Perry, Bill Wood
Department of MCD Biology, University of Colorado, Boulder, CO 80309


The sequence of the biologically active and longer of two transcripts from the wild type her-1 gene predicts a novel, cysteine-rich protein of 175 amino acids. the first 17 of which comprise a secretion signal. We are using direct sequencing from gel slices of PCR-amplified DNA of EMS-induced recessive loss-of-function mutations to identify important domains of the protein. So far we have sequenced 14 alleles, listed in the table below [See Figures]. The canonical reference allele, e1518 ,which does not behave as a genetic null, alters the splice acceptor for exon 4 from TTTCAG to TTTCAA. Sequencing a PCR-amplified portion of mutant cDNA showed that splicing occurs nine bases downstream at a cryptic acceptor, TTTGAG, resulting in an in-frame deletion of 3 amino acids at positions 139-141. Of the remaining 10 mutations found in the protein coding region, 5 others also affect cysteines and 2 affect prolines, residues that are likely candidates for involvement in maintaining proper protein folding. While no point mutations have yet been found in exon 1 [See Figure 1], transformation experiments have shown that a deletion of the first five amino acids after the signal sequence inhibits function of the protein.

Interestingly, two very weak ts alleles isolated as revertants of her-1 ( n695 gf)and one stronger, independently isolated ts allele carry single nucleotide changes clustered approximately 55 bp upstream of the mRNA cap site.
Figure 1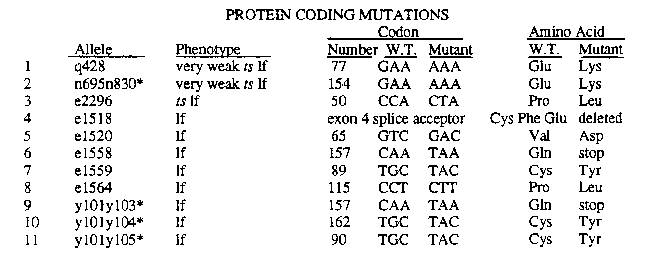 Figure 2

Figure 3

---