Worm Breeder's Gazette 12(3): 22 (June 15, 1992)
These abstracts should not be cited in bibliographies. Material contained herein should be treated as personal communication and should be cited as such only with the consent of the author.
Sequencing the C. elegans Genome: Progress Towards the First 1 Mb
Zijin Du[1], Mark Vaudin[1], Tony Favello[1], Nicolette Halloran[1], Laurita Johnston[1], Megan Connell[1], Patty Wohldmann[1], Yuko Kozona[1], Chau Huynh[1], Mohammed Jier[1], LaDeana Hillier[1], Philip Green[1], Richard Wilson[1], Robert Waterston[1], Trevor Hawkins[2], Molly Craxton[2], Karen Thomas[2], Mary Berks[2], Andrew Smith[2], Jo Kershaw[2], Nicola Smaldon[2], Teresa Copsey[2], Ratna Shownkeen[2], Richard Durbin[2], Neil Laister,[2], Simon Dear[2], Roger Staden[2], Alan Coulson[2], John Sulston[2], Jean Thierry-Mieg[3]
[1]St. Louis
[2]Cambridge
[3]Montpellier


The accompanying figure [See figure 2] illustrates the progress made in genomic sequencing to date. Cosmids (not drawn to scale) are shown at the top. Completed regions are ready for submission or have been submitted to the EMBL and GenBank databases. These completed regions have been analyzed by BLAST against the public databases, by Genefinder, and by comparison against the nematode cDNAs. Contiguous regions are contiguous sequences that have single stranded regions or problems such as compressions that have to be resolved. Shotgun regions consist of discontinuous fragments that can be searched by BLAST and cDNA comparison, but not by Genefinder. cDNA matches are shown by closed triangles for consortium clones and by open triangles for McCombie et al. clones. Significant similarities for BLAST are indicated. The total number of genes estimated by Genefinder analysis is shown for each completed segment.
Figure 1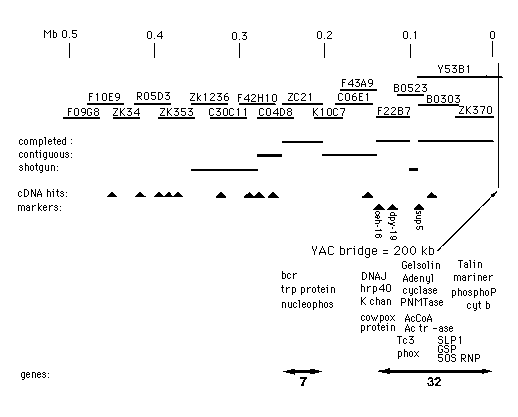 Figure 2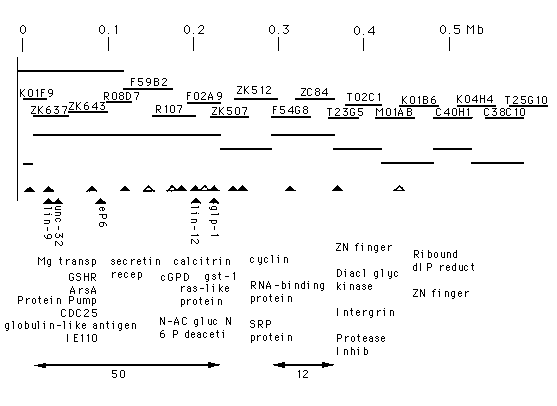 ---