Worm Breeder's Gazette 12(3): 114 (June 15, 1992)
These abstracts should not be cited in bibliographies. Material contained herein should be treated as personal communication and should be cited as such only with the consent of the author.
Mapping Quantitative Trait Loci for Life Span and Self-Fertility
Anne Brooks, Tom Johnson, Ted Hutchinson
Institute for Behavioral Genetics and Department of Psychology, University of Colorado 80309.


Quantitative traits such as life span and fertility are specified by the interaction of many genes (quantitative trait loci: QTLs). Mapping these QTLs involves assessment of genetic markers distributed throughout the genome as well as taking measurements of the quantitative traits of interest on the same individuals and/or strains. We have begun the process of QTL mapping for genes determining life span and self-fertility using the methodology described by Lander and Botstein (1989: In Genetics, 121:185-199) and .he primers for Tc1 polymorphisms provided by Ben Williams.

We analyzed the segregation pattern of five Tc1 polymorphisms among 84 recombinant-inbred (RI) strains generated from crosses between Bristol (N2) and Bergerac Boulder (BergBO). We used the "single worm PCR" technique developed and described by Ben Williams (WBG, 11:4) to ascertain the presence or absence of Tc1 polymorphisms in each RI strain. N2 contains none of the Tc1 polymorphisms and BergBO carries 211 five of the Tc1 polymorphisms that distinguish each autosome. Since the RIs are homozygous, the presence of a Tc1 polymorphism specifies the chromosomal parent of origin as BergBO while the absence of the Tc1 polymorphism indicates N2 as the parent. A priori, we expected a random segregation of these markers. We observed random segregation for the polymorphisms found on LGIII and LGV but not for the polymorphisms found on LGI, LGII and LGIV [See Figure 1]. Apparently the N2 linkage groups I, II and IV are selected for. Next we examined the pattern of association of each polymorphism, again expecting a random assortment. This time we did observe random assortment [See Figure 2]

RI strains are particularly useful for QTL mapping because of the various combinations of parental chromosomal regions which, through the use of genetic markers, can be assayed along with the phenotypic traits that are associated with particular regions. We have previously analyzed some of these RI strains on the phenotypic level in terms of their life span and self-fertility in an attempt to estimate the relative magnitude of genetic and environmental effects on life span and self-fertility, to estimate the number of genes involved in specifying these same traits, and to look at genetic and phenotypic correlations among life span and age-specific self-fertilities (Brooks and Johnson (1991). Heredity, 67:19-28). Now we are trying to assign chromosomal regions responsible for these quantitative traits. First we determine chromosomal parent of origin on the basis of presence or absence of each marker. Then, depending upon from which parent the linkage group came, we estimate the mean of the quantitative trait of interest. Using the formula provided by DeFries et al (1989 : In Alcoholism: Clin . Exp. Res . 3 : 196-200), we present our preliminary estimates of the amount of genetic variance in life span and self-fertility each polymorphic region on an individual linkage group specifies in Table 3. We want to emphasize that as we use more markers our estimates of the explained genetic variance per region will become more precise.
Literature Cited:
Lander and Botstein. 1989: In Genetics, 121:185-199

Ben Williams (WBG, 11:4)

Brooks and Johnson (1991). Heredity, 67:19-28

DeFries et al.. 1989: In Alcoholism: Clin . Exp. Res . 3 : 196-200
Figure 1

Figure 2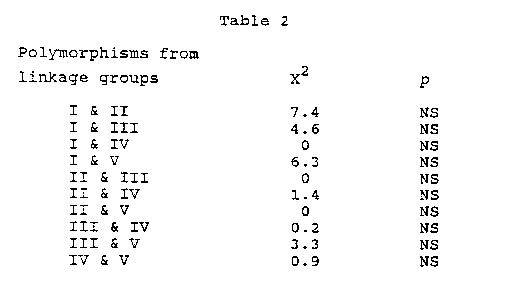 Figure 3

---