Worm Breeder's Gazette 12(3): 107 (June 15, 1992)
These abstracts should not be cited in bibliographies. Material contained herein should be treated as personal communication and should be cited as such only with the consent of the author.
Suppressing unc-4
David M. Miller, Pritha Chitkara
Department of Cell Biology, Duke University Medical Center, Durham, NC 27710


We have isolated suppressors of the temperature sensitive allele, unc-4 ( e2322ts ),by relying upon a chemotaxis attraction assay to select for animals with improved movement. Although unc-4 ( e2322ts )animals cannot crawl backward at restrictive temperature (25°C), they can crawl forward almost as well as wild type and thus can traverse a bare NGM plate to reach food if given enough time [See Figures]. If forward movement is also blocked by including unc-24 ( e138 ),which only slightly inhibits backing, then less than 2% of the unc-4 unc-24 animals can get to food in an overnight test. unc-4 -suppressedanimals ought to reach the bacteria, however, because virtually 100 % of unc-24 mutants are successful

Typically, about 104 F1 progeny of EMS-treated unc-4 ; unc-24 L4 'swere placed on the bare side of a 100 mm selection plate and left overnight at 25°C. Animals reaching the bacterial lawn were tapped on the head to check for backward movement. From 5 x 105 F1 's,we obtained four intragenic e2322ts revertants and four strong, dominant, extragenic suppressors (frequency/haploid genome = 4 x 10-6). (Not surprisingly, we also obtained unc-24 suppressors!) All four of the e2322ts extragenic suppressors map to the bli-4 - unc-15 interval on I which suggests that they may be allelic. We have provisionally assigned these unc-4 suppressors to a new locus, bkn- 1 (for "backing again .") None of the extragenic suppressors display a detectable phenotype in an unc-4 (+)background and none suppress the null allele, unc-4 ( wd1 ).

e2322ts contains a Leu to Phe substitution in helix-2 of the homeodomain (from sequencing cDNA derived by reverse transcription PCR). It is conceivable, therefore, that specific mutations in the promoter region of a presumptive unc-4 target gene could compensate for such a minor defect in the unc-4 homeodomain. This model would also explain the failure to suppress unc-4 (wd1) in which no detectable unc-4 mRNA is produced.
Figure 1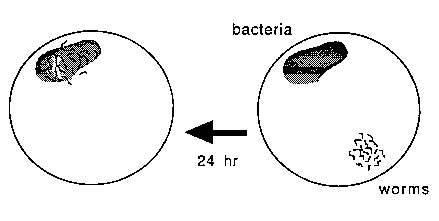 Figure 2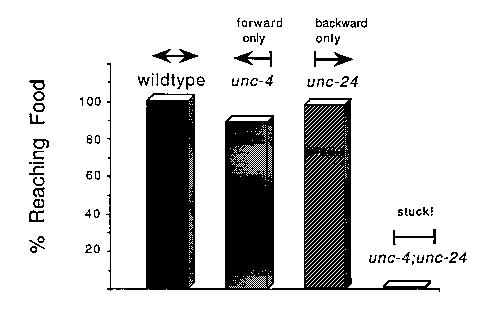 ---