Worm Breeder's Gazette 10(2): 125
These abstracts should not be cited in bibliographies. Material contained herein should be treated as personal communication and should be cited as such only with the consent of the author.
A Novel Protein Encoded in unc-13
I. Maruyama
Analysis of unc-13 cDNA 
clones
The identification of unc-13 gene has been described in the last WBG.
Since then we have looked for the cDNA clone in 'Ahringer cDNA 
library 4: N2 mating population', using the polymorphic DNA fragment 
as a probe, and have found some positives all of which have about 3 kb-
long inserts.  This is consistent with the result of Northern analysis 
of the transcript using cosmid clone as a probe although we have not 
detected the transcript on Northern blot of total RNA using purified 
polymorphic DNA and cDNA as probes for unknown reason, but probably 
due to a low copy number of the transcript and/or a large size of the 
gene.  We are now working on Northern analysis of the gene transcript 
using much more purified mRNA.
In order to confirm that the cDNA clones derived from the unc-13 
gene, we hybridized cDNA to the genomic Southern blot as well as to 
the cosmid and lambda genomic clone DNA encompassing unc-13 region.  
All of these clones hybridized to the polymorphic fragment on the unc-
13 mutant genome and have been localized on the restriction map.  At 
least three different transcripts (more and more coming up) have been 
identified so far, as shown below in Figure 1.  These clones do 
precisely overlap each other in the region of polymorphic band (shown 
by a vertical arrow in Figure 1) of unc-13 mutant and encoded in the 
segment of about 35 kb in length (What a huge gene for only 3 kb 
mRNAs!).
Sequencing one of the 
cDNAs
The whole insert of one of the cDNA clones, C2, was sequenced.  The 
cDNA clone has 2541 bp-long insert which encodes a full 5' region 
including noncoding stretch of 51 bp in length, but terminates at 
EcoRI site inside of coding region because there is neither stop codon 
nor AT-rich 3' noncoding segment.  By searching NBRF library we found 
that amino-terminal half of 'C2 product' is homologous (50%) to 
protein kinase C (PKC), but not in the carboxy-terminal half of PKC 
which has a kinase activity.  This might mean that 'C2 product' is 
similar to the regulatory domain of PKC but does not have a kinase 
activity.  It is interesting that the amino-terminal half homologous 
to PKC contains the typical cysteine-repeating region.  The function 
of the segment in PKC is not known, but the positions of cysteine 
residues is almost perfectly conserved in DNA-binding domain of 
steroid hormone receptors and so on (Fig.  2), suggesting that C2 
product may be under a similar regulation to PKC in the signal 
transduction process, and may presumably regulate gene expression of 
some other genes through DNA-binding.  This possibility remains to be 
elucidated.
I am now on the way to finish sequencing a bit of C-terminus of 'C2 
transcript' by sequencing of genomic DNA as well as analyzing some 
other transcripts.
I would like to thank Julie Ahringer in Judith Kimble's lab for 
providing the cDNA library.
Figure 1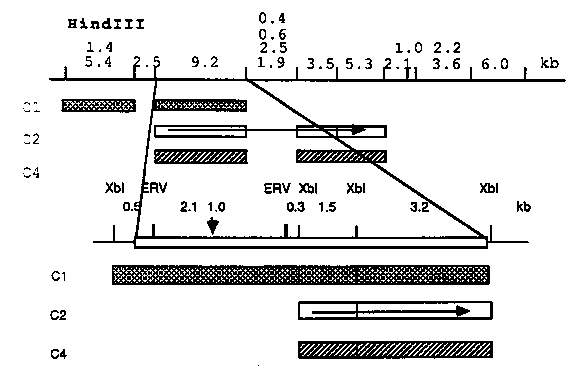 Figure 2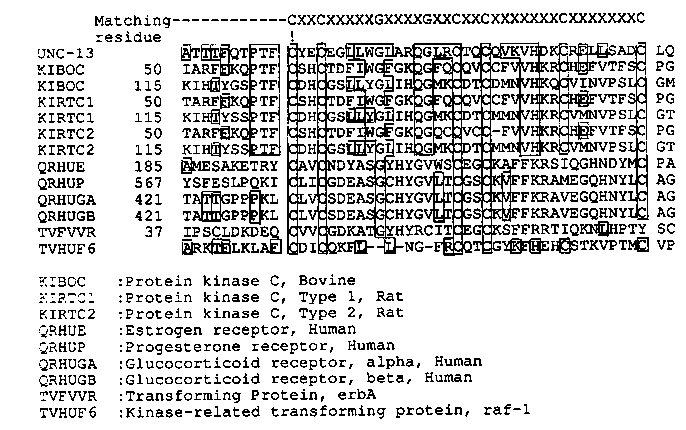 ---