Worm Breeder's Gazette 10(1): 135
These abstracts should not be cited in bibliographies. Material contained herein should be treated as personal communication and should be cited as such only with the consent of the author.
Competition of Exogenous Methoprene and Precocenes in Nematodes: The End of the Story
A. Fodor, T. Timar, S. Hosztafi, I. Kiss and Z. Dinya
We have accomplished a ten year long project aimed to learn whether 
competition between the juvenile hormone (JH) analogue methoprene (JHA)
and precocenes (P's) (chromene derivatives capable to destruct the JH 
producing organ (CA) in sensitive insect species tissue specifically) 
in C.  elegans (Fodor, et. al., Gen. Comp. Endcr. 46: p. 99 (1982)) 
can or cannot be explained by a comparable 'anti-JH' action of P's in 
nematodes.
Neither JH or CA like organ has been discovered in nematodes so far. 
There are only a few indirect data showing that insect juvenile 
hormones may influence certain nematodes pathogenizing insects.
We adopted a 'structure/activity' approach including design, 
synthesis and test P analogues on nematodes in the presence and 
absence of JHA.  If (at least part of) those analogues which capable 
to destruct the CA of a sensitive insect (Locusta migratoria) were 
also effective in nematodes and their effect could be compensated by 
JHA exogenously, then this hormone (analogue) should play a 
physiological role in the P-poisoned nematodes.  If those P's could be 
competed by JHA, which proved effective (as 'anti-JH' compounds) in 
insects, but those which exerted only aspecific toxicity could not be, 
then it would be logical to suggest, that P's are the same kind of 
'suicide compounds' for nematodes as for insects.
More than 200 P derivatives were synthesized (Tim r, Hosztafi) and 
tested on C.  elegans (Fodor) and L. migratoria (Kiss).  After a 
detailed quantitative structure/activity relation (QSAR) analysis (
Dinya, et. al., QSAR Strat. Des. Bioact. Compd. Proc. Eur. Symp. 
Struct.-Act. Relat. 5th (1984) Publ. 1985) several new P analogue were 
designed, synthesized and tested on L. migratoria and on C. remanei 
var. Bangaloriensis.  (We choose this nematode strain because half of 
its population consists of males, therefore it is easy to distinguish 
male adultoids from other type of retarded worms.)  Altogether, 121 
molecules were retested C.  remanei and 17 of them was found to exert 
some significant biological effect.  These compounds were retested 
again several times both in the absence and in the presence of 1 mg/ml 
NGM dose of JHA:  altogether, more that 144,000 C.  remanei embryos 
were counted, treated and scored afterwards.  The tests on nematodes 
were carried out as described in our attached paper.
The most characteristic data concerning precocene activity in 
nematodes were the 
following:
(1)  LC50:  the half lethal dose (in  g/ml) at which half of the 
embryos develops to worms (calculated by probit analysis);  (2)  AD50: 
the dose ( g/ml) at which half of the embryos develops to normal 
adults;  (3)  EC50:  the dose ( g/ml) at which half of the nematodes 
on the plates found as 'normal' fertile adults;  (4)  The maximum 
frequency of 'adultoid mini worms' during the experiments.
[See Figures 1-
2]
The main conclusions are the 
following:
About structure/activity 
relations:
(1)  All the three (P1-P3) precocene is effective in nematodes and 
their effects can be compensated by exogenous JHA.
(2)  The longer the chain of the R7 substituent the less the effect 
of the compounds in nematodes.
(3)  The 7-proparglyoxy analogues are much more effective in 
nematodes than any other C7 substituted compound.  (compare P1 to TT51;
P2 to K460; P3 to TT80; TT56 to TT58 or 3,4-diCl-P1 (inactive) to 
FI121.)
(4)  The asymmetrically disubstituted analogues are much more 
effective than the symmetrically disubstituted ones (compare TT80 to 
K460).  It is true, if R7 is longer than R6.
(5)  Me substitution at C5 position inactivates the originally 
potent P's (compare TT58 to TT51) but restore the activity of 
originally inactive (for instance, 7-sBuO-P1) analogues (compare it to 
TT56). 8-MeO substitution eliminate specific P activity (compare TT51 
to K464).
(6)  Both 8-Me and 8-MeO substitution increase toxic rather than JH 
compatible biological activity of P's. 8-MeO analogues are more toxic 
than 8-Me ones, but the consequences of the action of 8-MeO compounds 
in nematodes can be cured more efficiently by JHA than those 
concerning 8-Me compounds (compare TT100 to K475).
About JHA competition experiments:  JHA competed the effects of all 
precocenes which effected both insects and nematodes.  However, the 
data concerning K354 and FI121 show, that there are analogues which 
effective only in nematodes and their effects can also be cured by 
exogenous JHA.  Although there are aspecifically toxic analogues (like 
K454 or 2,3,5-triMe-7 propargO-P1) which cannot be compensated by 
methoprene, we cannot conclude, that our data unambiguously support 
the idea of existence JH-like hormones in nematodes.  It seems very 
probable, however, that JH-like compounds can interfere with the 
lethal metabolism of P's.
Figure 1

Figure 2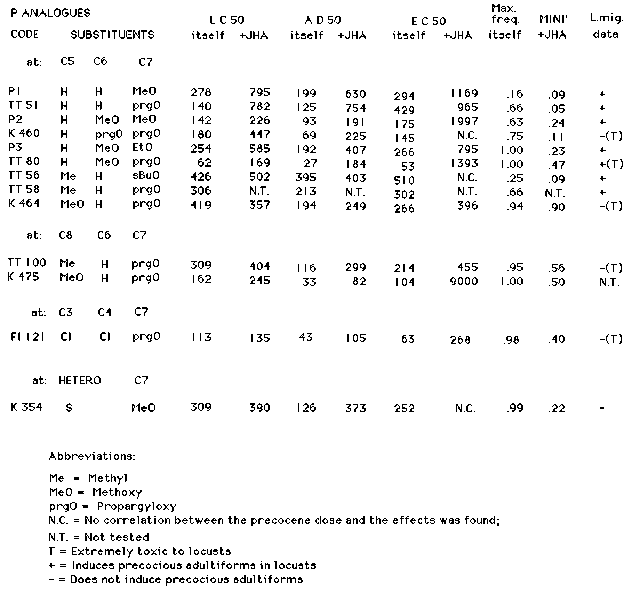 ---